TIA: When a single mom
with two young boys drives all the way down
here from Missouri, that's someone who's really
serious about adopting one of our dogs, and I just
hope that we can find the perfect match for them. How are you? How are you? My name is Penny Woodall and
I'm from Buffalo, Missouri. I'm a single mom. I've got two boys, 11 years
old and eight years old. This is Derrik.
Say hi. – Hi, Derrik.
– And Andrew. Hi, Andrew. Hi. Me and my mom and my brother
came here to adopt a dog, and make sure it has
a really good home. The family needs a dog that
is fun and energetic enough for the boys, but
can sometimes maybe not be so rambunctious for mom. And I began to think about a
dog we have named Lacey that we rescued just a few weeks ago. Oh my god. Does anybody even live there? Hi! What are you doing? She was just hanging
out in the front of someone's yard–
unleashed, no fence, which is very common in this area.
Knocked on the
closest front door, and the owner had
said he kicked her out because she kept
trying to get up in bed with them and the kids. I tried to convince him
that we could train his dog, but he just told me
to take her away. Lacey has so much
love to give, and she deserves to be with a
family that appreciates how affectionate she is. Here she is! Hi, baby girl. She just came straight up
to us, and that was great. I was really excited to see her. Lots of kisses. Now get your butt up. There you go. ANDREW: She was a nice dog. She loved people. PENNY: Rub her belly. She's trying to roll over. She's ready to play
now, look at her. It was just so great to see
how she was with the kids. She jumped right up there with
them, flipped over, you know, and was all about, you know,
snuggling up with them, which it was just exactly
what they were looking for.
Do you guys like her
more than EJ and Rosie? – Yeah.
– Really? TANIA: I can tell. What do you like about her
better than Rosie and EJ? EJ was a little too wild. TANIA: Yeah, he was pretty wild. What about Rosie? Why do you like her
better than Rosie? I really like her playing. I like playing. I think, too, I mean,
she's, she's sweet, but she's, she's calm about it. PENNY: Yeah. I feel like it's a
perfect fit for us.
The boys just
absolutely loved her, and I feel like she's just the
right temperament for them. The way that it just kind
of all meshed together, it really made it feel like
it was the right choice. You know of any fun things
that you would do with Lacey? Think she'd go and
play soccer with you? Hit the ball with her nose. TIA: Whenever I do an
adoption with children, I do discuss with the
family the kids' activities, and the things that they do.
What do you do for, like, fun? Like, what is your fun
thing you like to do? Video games, go outside
to the trampoline. TIA: Trampoline? Yeah, is your trampoline,
like, a big thing that you do? Yeah. This way we can make
sure that whichever dog they choose can just
jump right in with their day-to-day lifestyle. TANIA: This is adorable. Yeah. She's so cute. TIA: I think Lacey's
the one, and I think Penny felt the same way. She wanted Lacey to be
a part of her family, but really want to
be with the boys. Well, I'll walk you back
in and we'll say goodbye. PENNY: It feels really great for
her to potentially be our dog. It's just extraordinary. OK, guys, so we'll
talk to you soon? OK. OK. Nice seeing you. Oh! Where you going? No, you can't go yet! Come on. Lacey's feelings on the
subject were pretty obvious. She was ready to hit the road
and make the 10-hour drive to her new home. TANIA: This is country.
Yeah, it'll be good for her. Gets room to run around,
instead of being in the city. TANIA: Today Perry
and I are in Missouri to do Lacey's home check. The training with Lacey
went great, actually. She was completely
oblivious to 100 kids jumping on a trampoline. Hi. Hi. Hey, yo. Nice to see you again. PENNY: On a scale
of 1 to 10, I would say today is probably a 12. The boys are pretty
through the roof. Are you guys excited? Yeah. Yes, so excited. ANDREW: Every day I was
asking her how many more days until the dog's home. DERRIK: When I woke
up this morning, I looked at my calendar
and it was Wednesday and the dog was coming today.
PENNY: You guys want to
come in and sit down? TANIA: Yeah, we'll
just talk a little bit before I bring her out. PENNY: OK. TANIA: This family's
been through a lot, and you want them just
to finally catch a break. So I hope that everything
works out perfectly for them. Oh my gosh, how cute! These are so cute,
these pictures. It's really obvious that
this family's been preparing for Lacey to come there. And one of the
things that they did is they made her own
little cubbyhole, and they got her balls,
and put pictures of them and Lacey up on the wall,
and it was adorable. PENNY: And then we've
got a crate over here and set up for her, too. Oh, perfect. That'll just be for when,
like, I said, when we're not home and stuff like that. Other than that,
she'll be loose.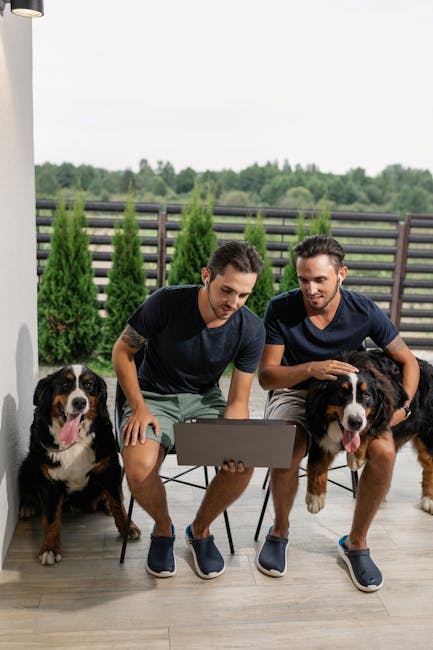 Yeah, that's, that'll be fine. One of the most important
things is that Lacey has a secure yard to play in. So do you want to
show me the yard? PENNY: Yeah. We'll show you all of our work. When they came here
for the meet and greet, they told us that
they were going to be putting in a more secure fence. So before we actually
bring Lacey out, I need to check it to
make sure that it's OK. PENNY: This has all been done
since we called you guys.
PERRY: Oh, nice. The fence, too.
– Yeah, all of this. PERRY: Wow.
– Oh my god! PERRY: That's really nice. TANIA: The yard looked great. It was huge, the fence
is high and it's secure. I think it's awesome that you
guys did all of this for her. Like, I love when people
get really excited to get their new animal. Yeah. When I see somebody
that, you know, put forth this much
effort, it absolutely makes me want it to
work out that much more, because I can just
tell that they're going to love her very, very much. You ready? Come on, she's coming.
It's been really different,
not having a dog for so long. Just missing that whole
companion feeling, and having the kids having
someone to play with. And so hopefully Lacey will be
able to come and live with us. Ah! Looky! Come here! Hi! That moment that Tania brought
Lacey through the gate, it was just amazing. Her and Andrew and Derrik seem
to mesh really well together. What are you doing? Hey, Lacey. I really like her, and I'm
sure she's going to have a good time at our house. TANIA: Oh! [INAUDIBLE] this is amazing. [INAUDIBLE] Oh! Come on, Lacey! Come on! Working so hard on the
yard and the fence, and seeing Lacey just run
around, It's kind of perfect.
Can't wait for you
to go swimming, huh? TANIA: Everything looks
great, but there's just one more thing that we need
to check before we head inside. Check out the trampoline,
what do you think? Lacey did great with the
trampoline testing in New Orleans, so we just
want to show them that she's going to do great
with the trampoline there. It is hot. Look, Lace. How you doing, [INAUDIBLE]? TANIA: Just like
she did at Via Lobo, she did great with
all the crazy bouncing around that was going on. PENNY: Lacey, look at the boys. Oh! Face plant. I mean, everything worked
out perfectly outside. I think it's time to take her
inside and show her around. PENNY: Show her
the spot, Derrik.
DERRIK: That way. PENNY: Come on, let's go look. This is your spot, looky. When I heard Lacey's story
and how she ended up actually going to the shelter because
they didn't want her jumping on the bed or in the
kids beds or anything, I just couldn't believe
it, because, you know, here at our house, we
want her right there with us. Oh!
Ah! TANIA: Cute! What are you doing? ANDREW: If she didn't
get to go on the bed, that's not really fair.
I would lay there on the bed
every time she wanted to. TANIA: Well, I think she's home. Yeah, she's really happy. Over the last few
years, we kind of have gone through a lot
of different difficulties, in losing my husband, and
the kids dealing with that, and then losing his dog
which was basically, you know, the other
person in the family. So to have something
good like this, and to bring happiness
for her and for us, I just can't even put
into words how great it feels to have her here. What are you doing? ANDREW: I'm happy
to see mom smiling, because this is like
the happiest time I've ever seen her. TANIA: Can we take a
picture of all of you guys together though, actually? Oh, her ears. That's so cute. I don't think that this adoption
could have gone any better.
You could read, you know,
the excitement on all three of their faces, and you
could tell that she really wanted to be around them. Take Lacey. Oh, thank you. You guys want to say thank you? Thank you. Thank you guys. Yeah, thank y'all..