Anyway, I can't wait to see what kind of dog – we'll meet today. / – Yes. We get this breed often as a problematic dog. Really? It's a Poodle. Poodles are in FCI group 9, the pet dog and toy dog group. They also made the French and German – kennel clubs fight once. / – Really? Poodles are from Germany, but small and cute Toy Poodles were bred in France, so they each claimed they're the country of origin. This makes me sure that Poodles are a much loved breed. In France, Poodles were very popular during the era of Louis XIV through Louis XVI. Records show that there was a Poodle that ran around freely in the Palace of Versailles and was much loved by the king. I've been to the Palace of Versailles. – For real? / – Yes. You've been to a lot of places. It's very big. (It's very big!) (Since it's a palace…) (It was probably like this?) The word Poodle means "to splash in the water." (Splashing) The word means "splashing in the water." (Gyeonggyu shows off his knowledge) (I got one in) You're adding a lot today.
– What? / – So much knowledge. Well… Like how the Palace of Versailles is big. (The Palace of Versailles and the meaning of Poodle) Why am I so filled with knowledge this morning? (Look forward to Gyeonggyu today) A Poodle. Let's watch this clip and find out why this problematic dog needs to be on our show. (Today's dog lives in a quiet residential area) High-five. They have several dogs. Hello, I'm the owner of Ddung, Ssing, Won, and San. Ddung looks very young for her age. She's a Poodle that's very clever and active. She's right. She looks very young. Look how round her eyes are. She mastered all the tricks when she was young. We don't make her do them anymore. Ddung, bring it to me. (A pretty old lady that can fetch tissues) Bring it to me. Won is very affectionate. (Poodle, Won, age 11, female) So cute. She sometimes smiles and shows us her front teeth. That's her biggest charm. Ssing is a very handsome dog. – He's handsome. / – Very good-looking.
He had a bad leg as a puppy, so I was worried… Oh, it's bent. But he grew up to be the healthiest one. He's always cheerful, which I love. He grew up to be healthy. San makes you want to protect him. He doesn't really do anything. You just feel like protecting him. – He's wearing a crown. / – Yeah. (Seems like the precious son) (A family of very different Poodles) (But they're actually all related?) I lost my dog to an accident a long time ago, and I was really struggling with that.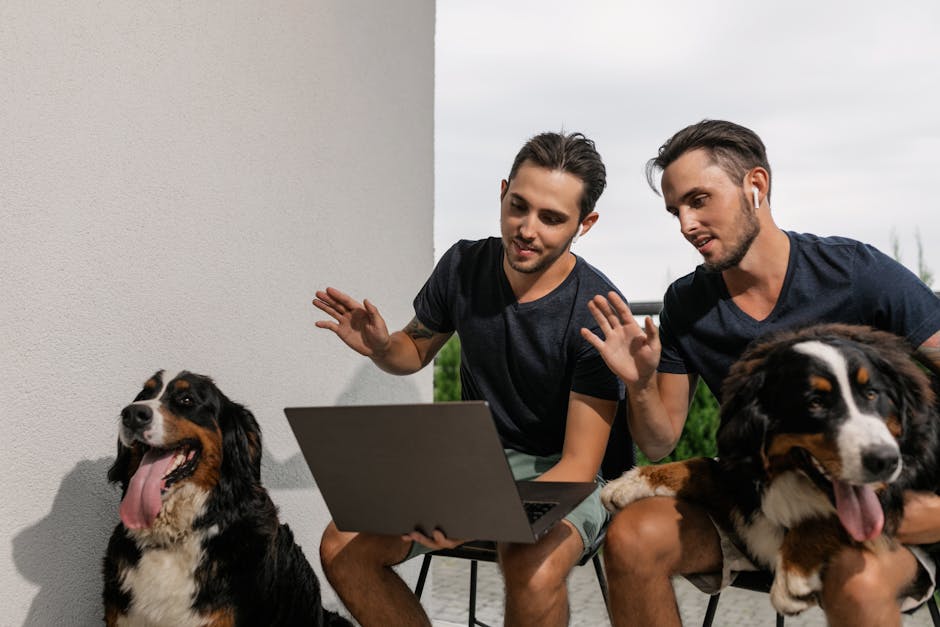 I loved having a white Poodle, so I asked my husband to get me a dog. I picked out Ddung as my gift. And since Ddung was so smart and cute, we decided to raise one of her puppies. That's how Won was born. My gosh! My parents have a male dog. He and Ddung ended up mating, and we got San. He was a happy accident. (And there's a special story behind Ssing) When Won was just 3 weeks old, I saw something posted online. Someone's dog had a puppy, but their mom threw it out because it had a bad leg and wasn't a Poodle. They threw out such a young puppy? Right. They threw it out? I was so sad that they threw him out, so I took him in.
Here's some information. Ddung, the mother, is 14 years old. Won is Ddung's daughter. Won. And San is a son from a different father. Then there's Ssing, the 11-year-old. They're a family. I plan on taking care of them until the day they go to doggy heaven. (But their life isn't so beautiful) (The Poodle family is relaxing) Let me lie down. (Looking at her phone… Seems ordinary so far) (We don't see…) (Any problems) (Just then) (They all get riled up) – What is it? / – They're going nuts. What is it, guys? (Very riled up) (A man suddenly shows up?) (Who is this?) Hello, I'm the husband. (This man that suddenly showed up is the husband?) (He's just someone who lives with them…) The husband came out of the room. The dogs always bark at me. I was indifferent before, but it's annoying now. Why? Because they always bark at me. Stop barking! – Hey, stop it! / – Stop it! It's like they're barking at a stranger.
.